"A reader lives a thousand lives before he dies,
The man who never reads lives only one."
– George R.R. Martin
The 3rd of March is World Wildlife Day and World Book Day, so we have combined both days to provide you with our top reads full of information about marine and coastal wildlife. If you're a parent we've also got some fantastic book recommendations for kids further down.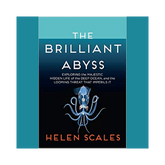 The Brilliant Abyss By Helen Scales
Both a fascinating plunge into the history of marine exploration and a timely reflection on the future of our relationship with the deep sea, The Brilliant Abyss investigates the conflicting ambitions of those seeking to reveal its secrets. The deep sea is the last, vast wilderness on the planet. For centuries, myth-makers and storytellers have concocted imaginary monsters of the deep, and now scientists are looking there to find bizarre, unknown species, chemicals to make new medicines, and to gain a greater understanding of how this world of ours works
Strange Sea Creatures By Erich Hoyt
A young wunderpus octopus, staring you right in the eye, is the perfect choice for the opening spread of this book celebrating the oceans' wonders. It's the first of a pageant of night-time vertical migrators. We see the surprising shapes, colours and intricate details of secretive animals, that dash to the surface on nocturnal forays. Hoyt's curated collection of images from various underwater photographers continues into the deep twilight zone and onto the seabed, showcasing the mesmerizing range of life far beneath the waves. BBC Wildlife Magazine
Fathoms: The World in The Whale By Rebecca Giggs
Giggs blends natural history, philosophy, and science. In lively, inventive prose, she introduces us to whales so rare they have never been named; tells us of the astonishing variety found in whale sounds, and of whale 'pop' songs that sweep across hemispheres. She takes us into the deeps to discover that one whale's death can spark a great flourishing of creatures. We travel to Japan to board whaling ships, examine the uncanny charisma of these magnificent mammals, and confront the plastic pollution now pervading their underwater environment.
Emperors of the Deep By William McKeever.
Sharks are ruthlessly efficient predators, the apex of 450 million years of evolution. They are older than trees, have survived five extinction events and are essential to maintaining balanced ocean ecosystems, but how much do we really know about their lives?  The first book to reveal the hidden world of sharks, Emperors of the Deep draws upon the latest scientific research to examine four species in detail – mako, tiger, hammerhead and great white – as never before
WINNER OF THE JOHN AVERY AWARD AT THE ANDRE SIMON AWARDS
If we can save the salmon, we can save the world. Over the centuries, salmon have been a vital resource, a dietary staple and an irresistible catch. But there is so much more to this extraordinary fish. As international bestseller Mark Kurlansky reveals, salmon persist as a barometer for the health of our planet. Centuries of our greatest assaults on nature can be seen in their harrowing yet awe-inspiring life cycle
For the kids…
Age range: 4 years and above
Water World is natural-history illustrator Ben Rothery's rich exploration of the creatures from the coastal and offshore waters of the world – from penguins, seagulls, polar bears and seahorses, to plankton, sharks and deep-sea beings.
Creature Features: Oceans By Natasha Durley.
Age range: 5 and up
Each page is bursting with unusual creatures united by a common characteristic. From enormous ears to humongous horns, from elephants to earwigs, this eclectic collection celebrates the diversity and the commonality of the animal kingdom. And with something to look for on every page, it's guaranteed to fascinate young animal lovers.
The Great Barrier Reef By Helen Scales, illustrated by Lisk Feng.
Age range: 5-7 years
A captivating, illustrated introduction to The Great Barrier Reef, written by renowned Oceanographer, Helen Scales. This is perfect for intrepid young snorkelers or children curious about the world under the sea. With nearly 400,000 square kilometres of dazzling colour, intricate ecosystems and unique creatures large and small, The Great Barrier Reef is one of the great natural wonders of our world.
Earth's Incredible Oceans By Jess French, illustrated by Clare McElfatrick.
Age range: 7-9 years
Earth's Incredible Oceans, written by animal expert Jess French and illustrated by Claire McElfatrick, takes children on a fascinating underwater journey, showing them just how amazing oceans are, which plants and animals live in them, and how we can help them.
The Sea: Exploring our blue planet By Miranda Krestovnikoff, illustrated by Jill Calder. 
Age range: 7-12 years
Discover the amazing and mysterious world of our seas and oceans and how important it is to protect them with Bloomsbury's beautiful The Sea as told by the critically acclaimed TV and radio presenter Miranda Krestovnikoff, hailed as the new David Attenborough by The Sunday Times, and beautifully illustrated by Jill Calder.
"There is more treasure in books than in all the pirate's loot on Treasure Island."
– Walt Disney