In recent times being a newly qualified officer doesn't necessarily mean the world is your oyster, as companies look for single handed watchkeeping experience. Therefore, getting your first trip can be a bit of a struggle. But can you imagine being given –arguably – a once in a life time opportunity to transport a brand new high speed catamaran from Tasmania through the Panama Canal to Denmark, as your first trip?
This was the third time Mols Linien has requested help from Clyde Marine Recruitment to deliver fast ferries and it was the second one from Hobart. It was also the second time that for two lucky newly qualified, Deck Officers and Junior Engineers, the chance of a life time became a reality.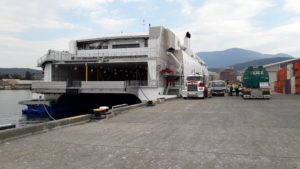 Next generation
The Express 3 is a new generation fast ferry which left Tasmania on the 15th of April 2017, on her delivery voyage to Denmark via the Panama Canal, arriving on 23rd of May.
She is 109 metres long and from the Australian shipbuilder, Incat Tasmania, to be operated by the Danish operator Mols Linien A/S, becoming the fourth Hobart-built catamaran in the company's current fleet.
The catamaran has a capacity of up to 411 cars and 1,000 passengers, with the maximum speed, 48 knots.
The wave piercing catamaran has evolved from Incat's well proven 122 metre catamaran range which first entered commercial service in mid-2007.
Although the vessel resembles the existing fast ferries, Express 1 and Express 2, the vessel is equipped with several improvements to help reduce fuel consumption compared to the other two vessels.
A unique voyage
Apart from travelling to some interesting places such as Tahiti and seeing some extraordinary wild life up close, such as Flying Fish to Whales, the voyage itself was very relaxed, according to 3rd Engineer Gareth Meechan. The weather conditions were virtually perfect, even though the vessel was like a cork, so they knew when they had a swell.
The Third Officer, Nathan Britton-Copping, that Clyde Marine Recruitment had on board said "I was told you never forget your first watch as a Mate and I certainly will not, we had left Hobart and I was on watch 1 hour after leaving the breakwater. We had little traffic and calm seas, it was the perfect conditions for the first watch. Something I will never forget!"
Dealt with some interesting challenges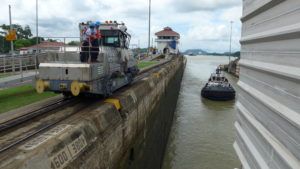 Some seafarers never go through the Panama Canal and although the Express 3 went straight through, as she isn't a conventional ship and as there aren't any bridge wings – they used cameras for manoeuvring. The Panamanian authorities had the ship at anchor creating panama shelters and fixing up the steering light!
An opportunity to learn
For the newly qualified officers particularly, this experience presented a fantastic opportunity to learn about lots of different things the newly qualified crew wouldn't normally have had the chance to do, such as experiencing a water jet propulsion system.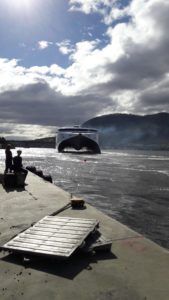 Instead of a traditional propeller and rudder the Express 3 has water jets – commonly referred to as buckets. There are four and each had its own name SIME (Starboard Inner Main Engine), SOME (Starboard Outer Main Engine), POME (Port Outer Main Engine) and PIME (Port Inner Main Engine).
The use of these buckets makes the vessel highly manoeuvrable, with its own handling idiosyncrasies which take some time to get used to compared to conventional vessels.
An opportunity for new Officers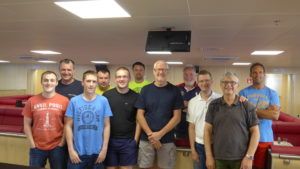 At Clyde Marine Recruitment we have found that it can be difficult for newly qualified officers to get their first voyage as it's all about experience in this industry. Luckily for them Captain Flemming was more than happy to offer them this unforgettable experience.
Watch the Express 3 coming into Denmark
How can Clyde Marine Recruitment help you?
To find out more about the service Clyde Marine Recruitment can provide please click here or email your enquiry to recruitment@clyderecruit.com
If you're a candidate that would like to register with Clyde Marine Recruitment please email your CV to register@clyderecuit.com or head to vacancy section of our website by clicking here now.