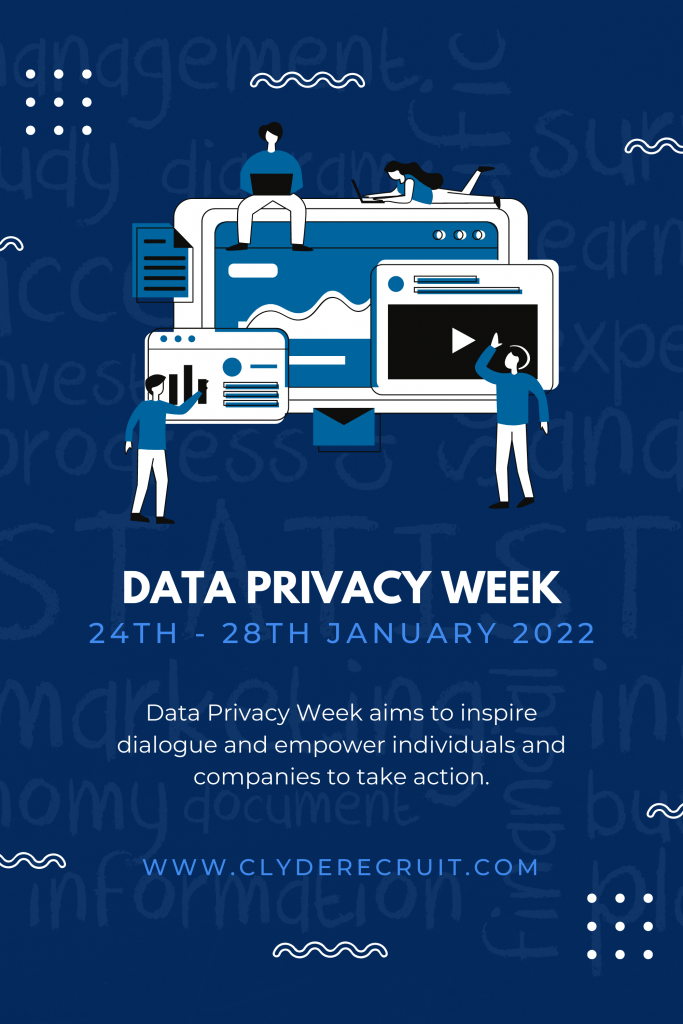 Data Privacy Week is coming up, which is an excellent opportunity to evaluate personal and business cybersecurity, and acts as a reminder for us all to consider how personal data is stored and used by companies.
Maritime Industry employers must stay up to date with continually changing data privacy legislation, all companies are required to demonstrate procedures are in place to ensure Crew and Candidate personal data is held securely in a GDPR compliant manner.
In line with GDPR requirements, Clyde Marine Recruitment (CMR) switched to a digital recruitment system which securely gathers and protects the data of our candidates. All job applications must be made using our online portal where candidates create a personal Digital Profile.
The team at CMR will not accept unsolicited CVs as we require all candidates to accept our data privacy policy. No matter how long you have been associated with the business, we require all candidates to set up a profile and in doing so accept our data privacy policy. Once you have created your profile & accepted the data privacy policy, you will be in a position to apply for advertised roles.
Please also pick up the phone and give our team a call to discuss options available.
The system CMR use is called Ankaa, and it safely gathers, stores, and shares your personal data. CMR use Amazon Cloud servers and the latest security encryption techniques to provide the highest level of data security. The servers core framework and infrastructure has been developed to meet the security requirements of world banks, military, and other organisations who manage sensitive data.  Ankaa allows us to view, analyse and process seafarer data in real-time via a web portal and crew mobile app, whilst complying with data privacy regulations. We are now able to share your key information securely with our clients and use your digital profile details to create digital contracts faster than ever before.
By creating a digital profile with Clyde Marine Recruitment, you are always in control of your Digital Profile. You can log in to add new documents, edit your address or contact details, add your latest assignment, or check your payslips.
If you'd like to update your profile click here to log in.