Crew Changes In A Pandemic
Orchestrating Crew changes has become a significant challenge to all of us. Perhaps akin to the 80's hit movie planes, trains and automobiles!
Scheduled flights around Europe have limited availability, are subject to last minute cancellation and prices have surged. In some countries there is simply nothing available.
Our Polish Office is now well versed in arranging surface transfers from all across Poland to the German border so we can use TXL (Berlin airport).
This month we have undertaken a first for our office; the crew on our crew managed freight vessels operating in the Northern Isles service were long overdue a crew change. With both vessels in Lerwick on a Thursday we chartered a private aircraft so that crew could be relieved and return home to their families.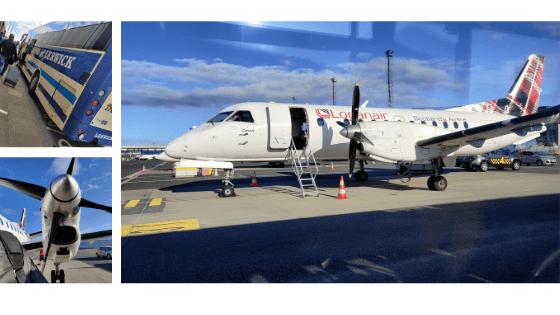 This came with it's own issues – Scottish inclement weather and Polish air space. Fog in May resulted in a little circling, we also had to request Polish Prime Ministerial Office permission to operate the flight. Following a quick stop in Kirkwall the terrific flight crew managed safe landings and we successfully orchestrated a full crew change in Lerwick, operating 2 return flights; Tallinn – Sunburgh (Shetland) and Tallinn – Gdansk (with an overnight stop) – Sunburgh return.
Chartering this flight allowed us to rotate 68 crew members across both vessels, allowed a speedier crew change and was more cost effective than any commercial option.
A very big thanks to Jaanus Ojamets of NYX Air who was extremely accommodating and able to assist despite challenging logistics. Their aircraft was still sporting Loganair colours as they charter aircraft to Scotland's Airline.
Also many thanks to  Leasks of Lerwick and The Albert Hotel in Kirkwall who were on standby to assist if we had to stop the aircraft in Kirkwall overnight and crew change there. Thankfully this was not required and the plane made it back to Tallinn only 27 mins behind original schedule!
We are hoping in the coming weeks we may see some improvement in what can be achieved using normal channels – until then we will continue to operate outside the box.